Disclaimer
Information provided on this website is general in nature and does not constitute financial advice. Every effort has been made to ensure that the information provided is accurate. Individuals must not rely on this information to make a financial or investment decision. Before making any decision, we recommend you consult a financial adviser to take into account your particular investment objectives, financial situation and individual needs.
A FinSec View – Update #11

Issue: Friday 26 June 2020
Over the last couple of weeks, the stock market has once again defied pundits and pushed through fears of the ongoing recession, job losses, business closures and a second virus wave.
How can this be?
The rally has certainly gone on far longer than we expected but our view remains the same – The current rally's longevity is one built on optimism. It has been largely driven by the injections of liquidity and stimulus payments and we think there is a risk the bubble will burst.
The below chart highlights the height of the market (red line), its fall as the reality of COVID hits and the about-face as it mimics the blue line (liquidity injections and stimulus) as fiscal measures kick in.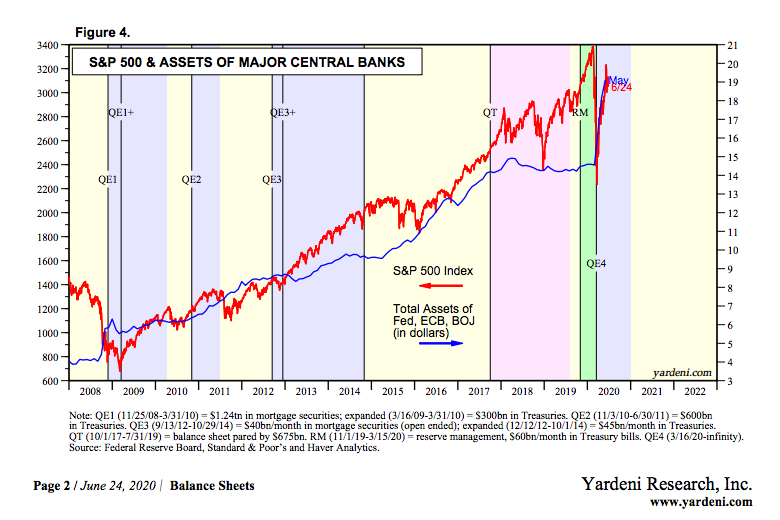 We think this quote from Damien Klassen, Head of Investments at Nucleus Wealth sums it up perfectly.
"It has been a surprisingly raucous party in share markets, but the hour is late, and the party seems to be dying down. Some partygoers are trying to find more alcohol to keep the party going. They may be successful. Regardless of their success in extending the party, given the amount of alcohol already consumed, investors will feel a lot better in the morning if they switch to drinking coffee"
---
A flood of money the lasting impact
We are all well versed as to the huge amounts of spending governments globally are pumping into their economies in an attempt to minimise the fallout of COVID-19. But will these policy responses actually work and what will be their lasting impact?
In this succinct article Deputy Head of Multi-Asset, Simon Stevenson explores the links between money printing, government debt, low interest rates and inflation. He concludes that in a post COVID environment monetary policy will be relatively ineffective, but fiscal policy will be a powerful antidote.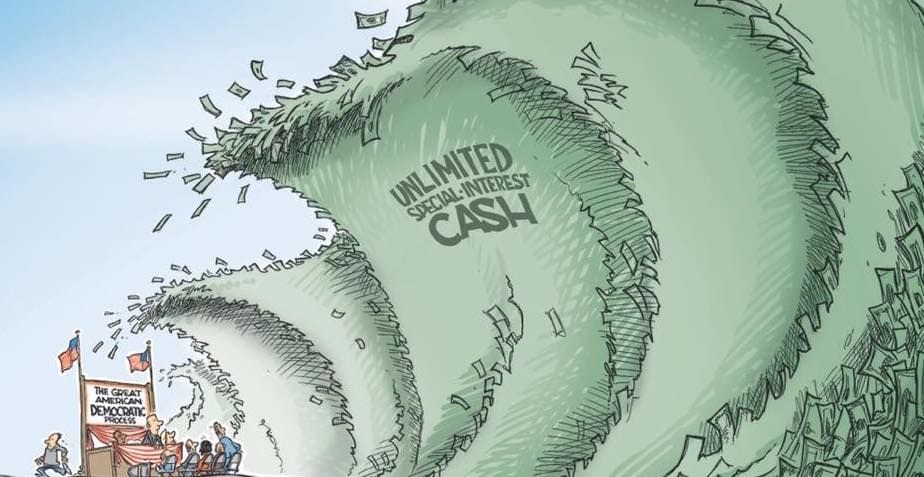 ---
Consumers hold the key but how will they behave?
Another interesting article is a research piece from CoreData on how consumer behaviour will determine our emergence from recession.
Their latest data suggests "80% of Australians are more concerned about social restrictions being lifted too fast, leading to severe health consequences, then they are about social restrictions being lifted too slowly, leading to severe economic damage."
This shows that for the moment consumers seem to be erring on the side of caution, but how will attitudes shift in the coming weeks and months as frustrations grow and patience wanes?
Will we recalibrate what we consider to be an acceptable risk in our lives or just throw caution to the wind and seek some good, old-fashioned short-term gratification to relieve collective stress as we see happen in times of war?
Consumer behaviour is a key driver of our economy. Right now we are sitting on a cliff-edge waiting to see how and where we will fall. Read article here
---
Chart of the week
Our chart of the week depicts global deaths due to various causes from January through to May this year. Using motion, this chart illustrates the alarming rate of acceleration at which COVID spreads.
According to the CoreData research cited in our previous article,1 in 5 Australians are prepared to accept an infection rate in the population of 30 per cent in order to avoid a recession. Our chart of the week gives you an indication as to how this could translate into the likely burden of mortality. Click here to view.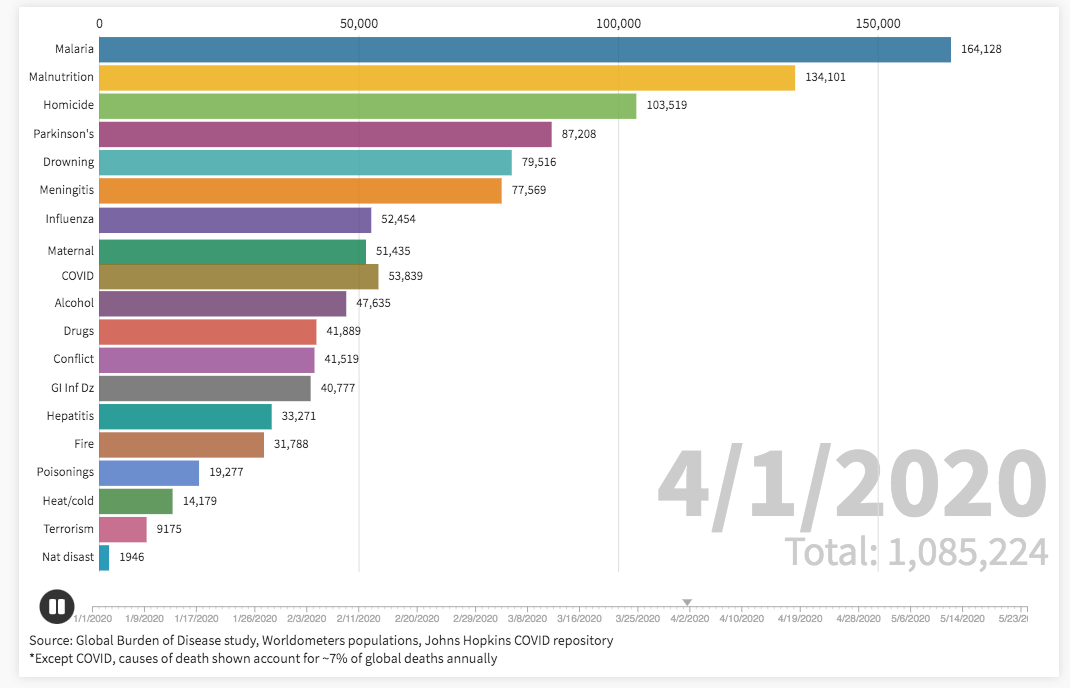 ---
Important Reminders
Changes to Account Based Pension Withdrawals
A further reminder regarding Changes to Account Based Pension Withdrawals.
We are seeing a number of different approaches by product providers to these new rules with some carriers making the decision to automatically halve payments unless told otherwise.
If you have an account based pension and you have not heard from us, please contact us as a matter of urgency to discuss your situation.
More information can be found here.
Please beware of fake emails and SMS messages and remain vigilant when it comes to your online security
Recently we have seen an alarming rise in the number of clients reporting compromises to their online accounts, particularly their My GOV accounts.
Please be aware that there are a number of fake emails and SMS messages that claim to be from reputable sources such as the Australian Government. These fake messages seek to gather sensitive personal details from recipients and use them for malicious purposes.
We recommend you do not open emails from unknown senders and that you be wary of unexpected emails. If you are unsure about whether an email is legitimate, contact the organisation, department or individual that it purports to come from, using a number you have independently located on a website, phonebook or bill, before opening the message.
The Australian Cyber Security Centre (ACSC) also provides a free service for Australian internet users providing information on recent online threats and how they can be managed.
You can register for the ACSC Alert Service here https://www.cyber.gov.au/acsc/register/individuals-and-families
Or you can also receive alerts by liking the Stay Smart Online Facebook page by clicking here https://www.facebook.com/staysmartonline/
---
Introducing two new advisers
We are delighted to welcome advisers Michelle Rowley and Kate Schultz to the Finsec Partners team. Collectively Michelle and Kate bring with them many years of experience across senior roles in large corporates and are now looking forward to the flexibility that a self-licensed firm brings.
We look forward to introducing you properly to Kate and Michelle as they settle into this next chapter with FinSec.
---
As always, if you have any concerns or questions at any time, please reach out to your FinSec adviser.