Finsec Partners uses DocuSign a fast, simple and secure way to digitally sign and send important documents.
This innovative technology brings a number of benefits to clients and our business. Today, DocuSign is the most widely used provider of electronic signature technology in the world. The benefits include:
Sign documents anywhere from any device: A couple of taps on a smartphone or tablet and your authorisation by signature is completed.
More secure than paper: Documents are encrypted and a complete audit trail is maintained.
No more overnight deliveries, faxing or dropping off to the office: DocuSign allows instant delivery and return.
Faster processing of your work: By integrating with our systems, and by eliminating postage, scanning and data entry, documents are actioned instantly for faster client outcomes.
How DocuSign works
Once we create your document and mark who needs to sign and where, the document is securely uploaded to DocuSign.
If you are signing remotely, you will be sent an email with the link to your document.
If we are signing together, the document will be ready on our device ready for your signature.
DocuSign will display the document in it's entirety, and clearly indicate where you need to sign.
On completion, the signed document will be delivered directly to us with a replica copy delivered to your nominated email address.
Whilst DocuSign is an extremely intuitive tool, should you find yourself having any difficulties, please contact us directly or visit the Help with Signing page on DocuSign's Support Center.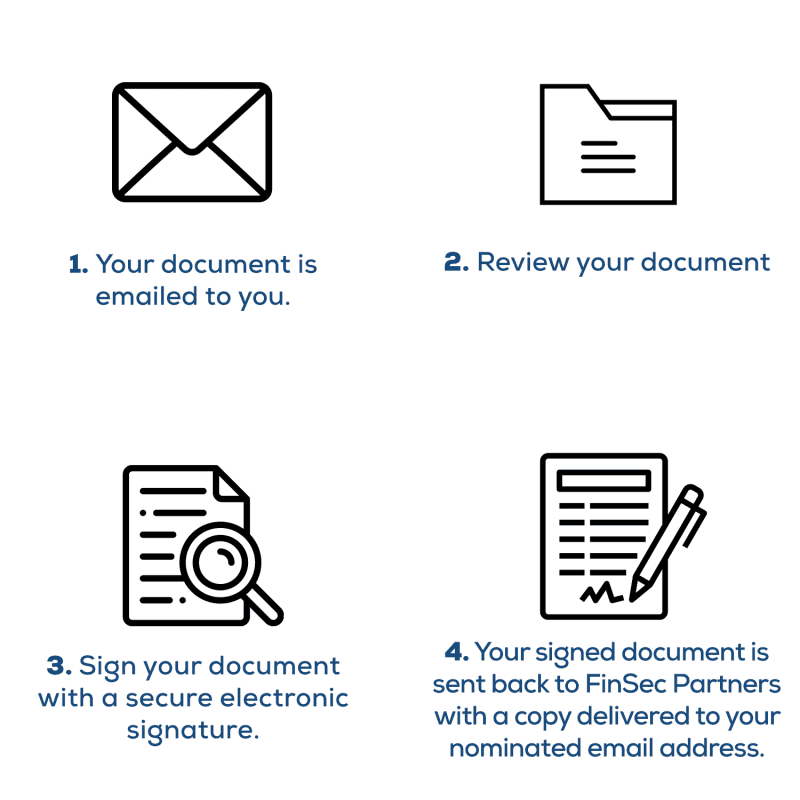 Is DocuSign safe and secure?

DocuSign is a global leader for electronic signatures trusted by over 60 million users across the world.
Clients will need access to the personalised email from DocuSign. It is not possible to access the documents without the unique links within this email. Client documents will be saved and stored by Finsec Partners as per current practices.
Copies of executed documents will only be stored within DocuSign for a period of two weeks. After this time, documents will be purged from DocuSign and only held within Finsec Partner's systems.
Is a digital signature legally binding?

Yes, signing documents electronically has the legally binding equivalent to a handwritten signature. Whenever you execute a digital signature, it has the same validity and meaning as your handwritten signature.