Investors reactions to market volatility couldn't be more at odds over the last few weeks. While one cohort has rushed for cash and safety, the other has seized a share-buying opportunity. The divergence in views is of course that some investors see an end in sight and are looking to pick up shares at marked down prices, while others believe the market is expensive in the face of poor economic conditions. All the while, most people are watching from the sidelines. Whichever view you take, you have plenty of company.
Here at FinSec, our own view remains one of caution and it would seem this week the market agrees, with the ASX closing 5% down.
These words from Howard Marks (always good for a quote), said on April 20, helps to explain this sentiment. "We're only down 15% from the all-time high of February 19, and it seems to me that the world is in more than a 15% mess."
For those of us more focused on 'full-cycle' investing, not chasing highs and lows, patience in equity investing is usually rewarded. These 5 charts remind us what to keep in mind in rough times such as these.
---
Oh! For a crystal ball
In Australia, indications are we're doing well to control the virus (ranked #2 in the world behind China). But with this comes mounting pressure to start scaling back the shutdowns. The million-dollar question is when and how.
Most governments have a policy for containing the disease, but all are grappling with an exit strategy. No one will be entirely safe until there is a vaccine, and no coronavirus has had a successful vaccine developed before.
We all know about the huge debt burden of the Commonwealth, but the States too will have huge deficits. Their cost base remains largely unchanged (they are maintaining most services), yet, they have lost much of their revenue; stamp duties, gambling taxes, and significant reductions in payroll taxes, public transport fares and GST (noting that the items people are buying now, food and health goods, are exempt).
Our debts will burden future taxpayers for a generation, and economic contractions and unemployment rates risk heading for 1930s Great Depression levels. Clearly, the governments need to restart the economies as soon as possible, but this can not be done at the expense of a further outbreak that may overwhelm our medical resources.
The upside (if we can call it that) is that it does present an opportunity for more meaningful discussions on tax reform, and we hope it leads to a much needed contemporisation of the Australian tax system.
An interesting article from Rice Warner on the various exit options can be found on the Firstlinks website by clicking here. The authors suggest that because of our island nation, Australia is in a strong position to test and trial exit strategies. These are likely to include a phased, geographic introduction starting with our schools, dealing with outbreaks by strict isolation, a willingness to lockdown again if the virus spreads, keeping the borders closed and limiting travel between states. They plot an exit strategy, comparing the 'go too early' versus 'stay out longer'
---
Renting an oil tanker just went from $20K/day to $300K/day
A mistimed price war, a pandemic and a logistics disaster. Oil is the big news this past couple of weeks with the U.S. benchmark oil price (WTI crude) going negative for the first time in history.
On April 20th, May futures closed at -$37.63 a barrel. A situation that saw producers willing to pay traders to take oil off their hands. It was a combination of 'buyers wanted at any cost' coupled with the inability for anyone to name 'a time and place'.
So what happens when oil is practically free?
You buy as much of it as you can, and hope that you can sell it for more. Which is exactly what happened and as a result we now have a glut that is filling up the world's storage capacity both on land and at sea.
In March it was estimated that 76% of the world's available oil storage is now full and billions of barrels are now being stored at sea. The cost of renting an oil tanker has gone from $20,000 per day to $200,000 – $300,000 per day.
This infographic titled 'How Oil Prices Went Subzero: Explaining the COVID-19 Oil Crash' explains it all.
The call on storage has now reached barmy proportions, especially for floating storage At such a rate of take-up, analysts at IHS Markit prdict the supply surplus cannot exceed the practical upper limit of 1.2 billion barrels of global crude oil storage capacity that was available as of early first quarter 2020.
"Storage limitations point to a forced 10 million bpd cut in world oil production," they add. Even that may not be enough for a near-term stabilization of a market that's desperately hoping for a global grip on the coronavirus epidemic.
(Please note: At time of publishing both May contract and spot prices have rebounded).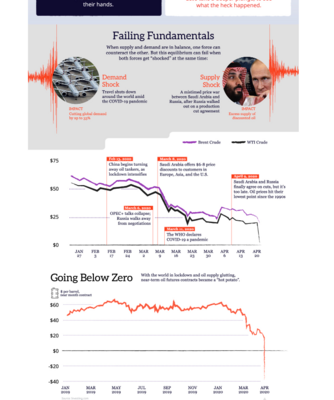 ---
ATO opens applications for early release of super – Caveat Emptor
The ATO has released its application form for the early release of superannuation by individuals impacted by COVID-19. From 20 April 2020, an individual can make one application to access up to $10,000 in the 2019-2020 financial year, and a second application for up to $10,000 in the 2020-2021 year until 24 September 2020.
It can take one to two business days for super funds to receive notifications directly from the ATO about their members. The government then expects funds to process the payments and release the amounts to individuals "as soon as possible".
If your application is rejected by the ATO, you will be notified via your MyGov account in two to three days.
Separate arrangements apply for applications by members of self managed super funds (SMSFs). The ATO will issue a determination to you as the fund member (instead of to the super fund) advising of your eligibility to release an amount. When the SMSF receives the determination from you, the SMSF trustee is then authorised to make the payment.
Caveat Emptor – Let us not forget this is the worst time since the GFC, to be selling assets. So, it really should be a last resort and only one for those that genuinely need it.
It should also be recognised the intention of this government policy is actually to provide another source of economic stimulus. But unfortunately, quickly spent super will result in long term consequences for those who play that game.
---
Please stay safe and should you have questions now or at any time, please do not hesitate to reach out to your FinSec adviser.