Disclaimer
Information provided on this website is general in nature and does not constitute financial advice. Every effort has been made to ensure that the information provided is accurate. Individuals must not rely on this information to make a financial or investment decision. Before making any decision, we recommend you consult a financial adviser to take into account your particular investment objectives, financial situation and individual needs.
A FinSec View #23

Issue: Friday 18 December 2020
In the words of Bob Dylan "Doesn't expecting the unexpected make the unexpected expected?"
But what we weren't expecting…
A pandemic on a global scale;
Masks and social distancing our new normal;
Children home-schooled;
Borders closed;
All gatherings and celebrations cancelled;
The fastest bear market in history
Businesses told to operate virtually or not at all;
Almost 200 of the largest public companies in the US reaching zombie status; and
Central banks the heroes, with a bottomless bucket of money.
And yet
The Nasdaq and the Dow hit new record highs daily;
The S&P 500 has just experienced its best November on record;
IPOs that beggar belief. The latest is last week's DoorDash in the US. It listed at US$102 before closing its first day at US$189 with a market value of US$72 billion. It's a seven-year-old start-up that lost US$667 million in 2019 and US$149 million in the nine months to September 2020. It's not changing lives or revolutionising an industry; it is a meal delivery app.;
Australian owned Afterpay is up 259% since January;
Consumer confidence is at an all-time high (Gerry Harvey of Harvey Norman calls it the best trading conditions he has ever seen, and he's 81-years-old); and
New mortgage commitments in Australia have just risen by 23% year on year;
What a year it has been!
2020 has indeed turned out to be the year the eggnog bowl was filled to the brim with freshly minted government money and spiked with 'whatever it takes' for the recovery party. And, it looks like the party may well continue into 2021.
It has been a year like no other in living memory. Let us not forget that people have lost their lives and many their livelihoods and that balancing the markets optimism should be done with caution. After all… at some time the eggnogwill need to be paid for and someone will need to clean up the mess.
---
Word of the year
Also unexpected. There is no 2020 Oxford Languages word of the year.
As the team of expert lexicographers captured and analysed their lexical data, it quickly became apparent that 2020 is not a year that could neatly be accommodated in one single word. It would seem the English language, like all of us, has had to adapt rapidly and repeatedly. And so, this year they have produced a whole report.
No big surprise but the most lexical innovation this year was in reaction to COVID-19.
Lockdown – UK, Canada and Australia
Shelter-In-Place – US
Circuit Breaker – UK and Singapore
MCO (movement control order) – Malaysia
ECQ (enhanced community quarantine) – Philippines
SHN (stay home notice) – Singapore
Sanny (hand sanitizer) – Australia
Veronica bucket (sanitation equipment) – West Africa
Oxford Languages words of an unprecedented year report depicts the events that shaped the world through the astounding language developments of 2020 It's a great perspective on the year that was. The report can be found by clicking here.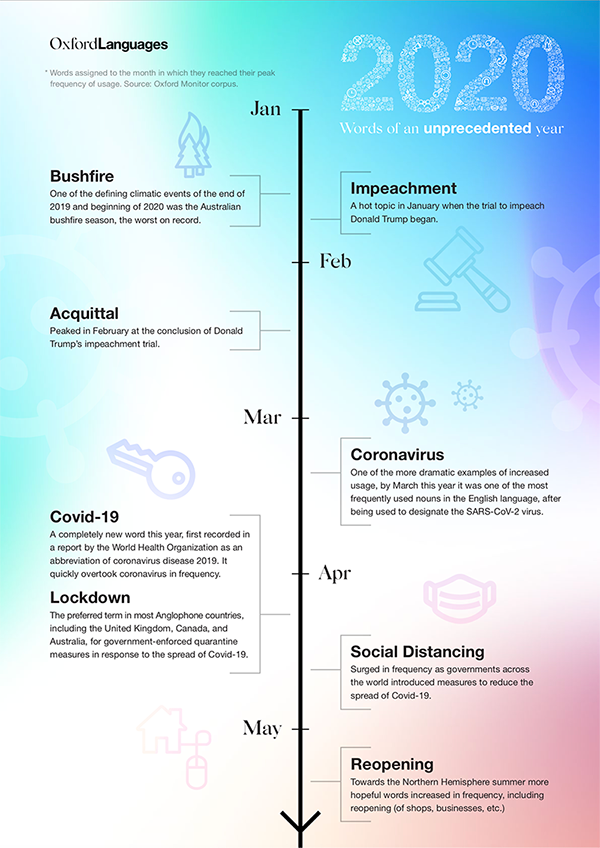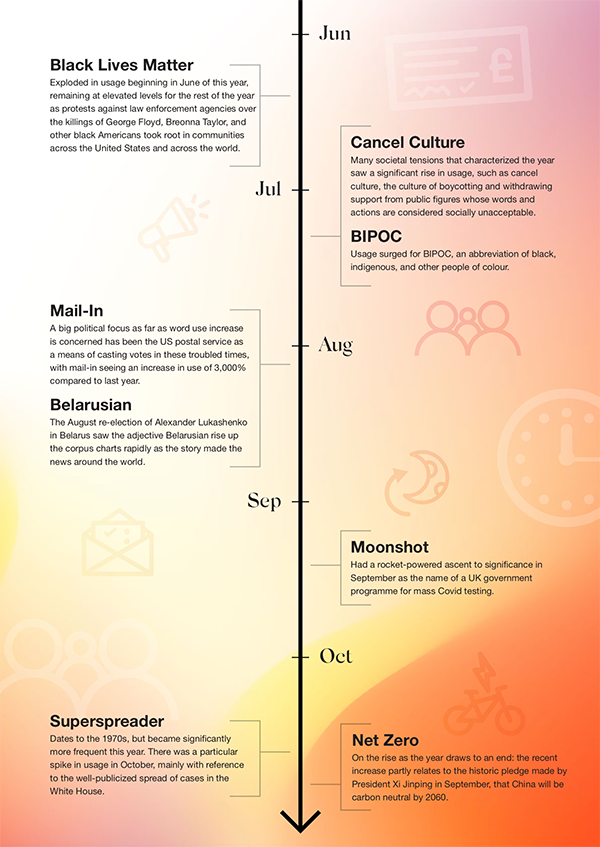 ---
Market update
Fuelling markets over the last month is promising developments on the vaccine front sparking optimism that the pandemic's end may be in sight. Together with tech shares this news has helped lift both the S&P 500 and Nasdaq to fresh record highs. In Australia the latest virus outbreak linked to Sydney's northern beaches may dampen the spirit of investors, but regardless the ASX is on track to record its seventh straight weeks of gains.
The Electoral College has confirmed that Joe Biden will become President on 20 January 2021 albeit with a Republican senate which will hinder any material agenda and we expect to see a much smaller US fiscal stimulus program in 2021. The Federal Reserve will become the major player in town and investors will watch closely to see how they use their balance sheet. It is likely that the Fed will continue its bond purchase program to keep bond yields very low to ensure that governments and corporates can borrow cheaply. Game theory dictates that we must see some volatility to incentify the Fed to ultimately deliver on this program. As hinted to by the RBA, in Australia we will most likely see a much larger extension of the same program.
In many respects as much as we will see some volatility in the months ahead, we don't expect that materially it will change valuations, rather just oscillate within a range in the same way the Australian market has done for most of the year since April.
2021 Outlook
Macro
The global economy is experiencing a serious case of whiplash as 2021 looks to be the year the world turns the corner to recovery. The International Monetary Fund (IMF) estimates that global GDP will climb 5.2% in 2021. But risks to recovery remain, chief among them the ongoing resurgence of COVID-19.
Low rates continue to support asset prices and with interest rates seemingly 'lower forever,' equity markets may move higher if investors flock to stocks in search of better returns than those offered by other asset classes.
The jury is still out on how inflation will develop in 2021. But in the absence of a massive fiscal boost, it will be harder for the Fed alone to generate a sustainable increase in inflation, despite adopting a flexible average inflation targeting framework. Loosening an already loose policy is likely to have less impact than it did in 2020. Nonetheless, we expect the Fed to ease policy in the near term as it responds to changing market and economic conditions.Equity
Some of the opportunities our investment committee will be keeping a close eye on in 2021:
Pent-up demand is poised to fuel a comeback in travel and other hard hit sectors as people yearn to go on their next holiday or simply go out to dinner.Innovation presents opportunities across the globe. Europe and Asia lead the world in some of tomorrow's technology, from renewable energy to digital payments.
Fixed Income
Strong core bond allocations remain a smart strategy – 2020's fastest equity decline in history showed how important it is to continue to hold high-quality bonds as a buffer to market volatility.
---
Chart of the week
Fund Managers Fidelity are calling it 'The Elephant in the Room' now at levels higher than after World War Two, Government Debt makes for a confronting chart of the week.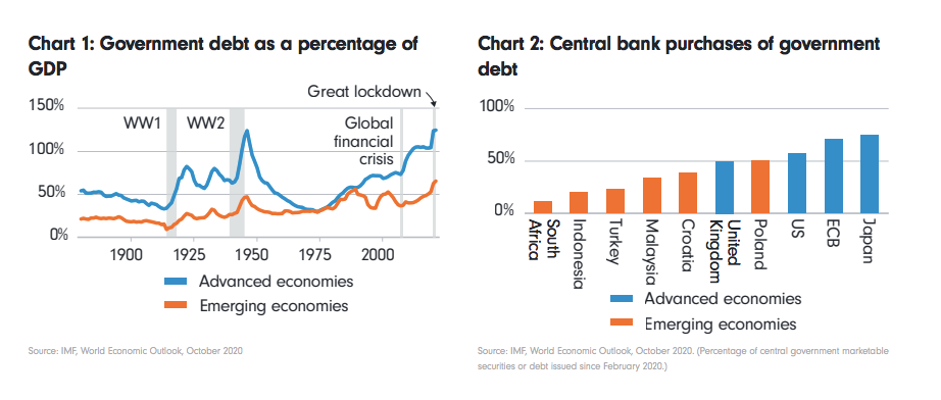 ---
Christmas trivia
On December 21, 2020, Jupiter and Saturn will cross paths in the night's sky and for a brief moment, they will appear to shine together as one body.
It is a phenomenon called The Great Conjunction and is the closest of its kind since 1623. Could it be the source of the 'Star of Bethlehem' story? It certainly has tongues wagging. Regardless, this week's closest approach of Jupiter and Saturn in the telescopic age is a historic event that you must take a look at. All this week and next, but particularly on the evening of December 21, 2020 cast your eyes to the southwestern skies 45 minutes after sunset and you'll see two distant worlds become one.
Wishing you clear skies and wide eyes… Oh, and if you happen to be out and about be sure to look out for wise men carrying gifts of gold frankincense and myrrh.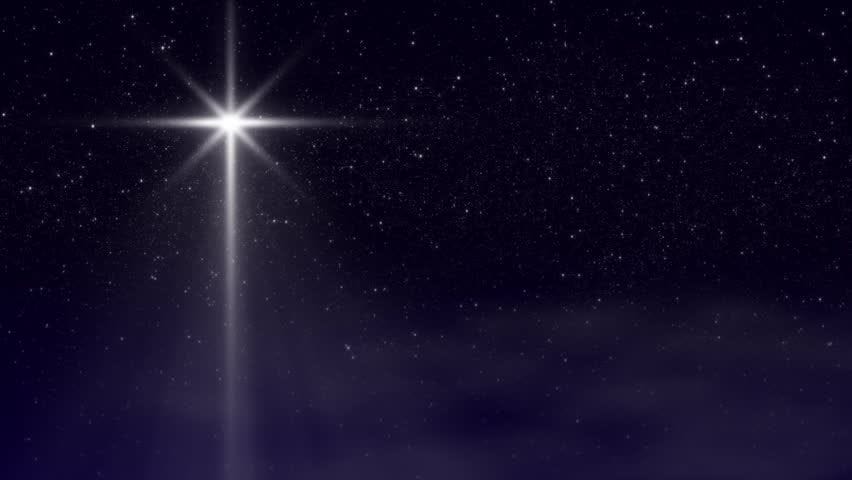 ---
Seasons Greetings
It has been an extraordinary year and we would like to take this time to say thank you for your understanding and support. We also acknowledge and thank our team for their nimbleness, resilience and the adaptivity they have shown in the face of 2020's 'unexpectedness'.
The festive season reminds us once again of the importance of friends and family, of taking a well-earned break and embracing the spirit of the season. We hope you take a brief moment to appreciate and enjoy this seasonal 'break' and may you all have a happy and safe new year.
As we too recharge our batteries, we will be taking a brief editorial break through January and look forward to seeing what the world has in store for our first view in February 2021.
Stay safe and look after one another. Enjoy the holidays and as always, if you have any concerns or questions at any time, please reach out to your FinSec adviser.