Issue: Friday 04 December 2020
The recession is officially over
Adding to a year of wildly fluctuating data, figures released on Wednesday show the Australian economy grew by 3.3% in the July-September quarter. It's the largest quarterly increase since 1976 and comes after a 7% contraction in the April to June quarter, the largest quarterly fall on record.
The growth spurt was powered by a rise in household consumption growing by 7.9%, the largest rise in the 60-year history of the national accounts.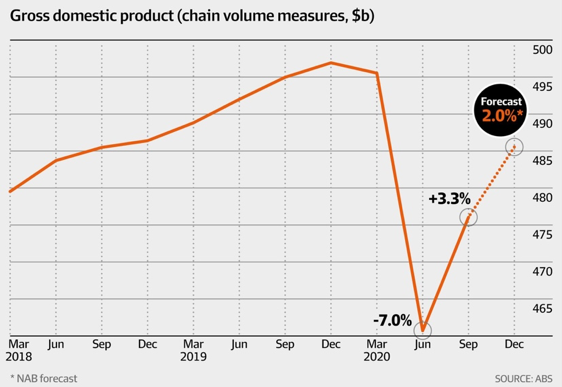 Good news yes, but let's not mistake unprecedented stimulus and a record low cash rate of 0.1% for a thriving economy. Let's also not forget that unemployment is tipped to continue climbing to around 7% – 8% and underemployment remains at extremely high levels. In the housing market a huge number of high risk mortgages (17% approx.) have deferred their repayments and more than one in ten businesses have deferred their bank loans. All the while, the federal government is running a budget deficit of almost $20 billion per month.
The recession as a result of the economic lockdown may be over, but the recovery will face many obstacles, most of which remain unseen.
The Australian economy has demonstrated its remarkable resilience and the comeback is far greater than analysts expectations of 2.5%. The fact that the numbers reflect a period of time before Victoria opened and before the federal and state budgets were announced means there is likely to be a stronger December quarter which is a heartening trend.
But, what looks like a recovery on paper will still feel like a recession for many Australians for some time to come. As Reserve Bank Governor Philip Lowe stated "the positive numbers cannot hide the reality that the recovery will be uneven and it will be bumpy and it will be drawn out." The real test will be when the stimulus begins to be withdrawn.
---
DOW Jones breaks 30,000 for the first time in history
Despite global COVID cases reaching 60 million, the iconic Dow-Jones Index set a new all-time high last week (Tuesday US time), momentarily breaking through the 30,000 mark. This investor optimism was fuelled by the latest progress on developing coronavirus vaccines and news that the transition of power in the US to President-elect Joe Biden will begin.
Word that Biden has chosen Janet Yellen, a widely respected former Federal Reserve chair, as Treasury Secretary also added to investors' confidence. Widely admired in the financial world, Yellen would be the first woman to lead the department in a line stretching back to Alexander Hamilton in 1789.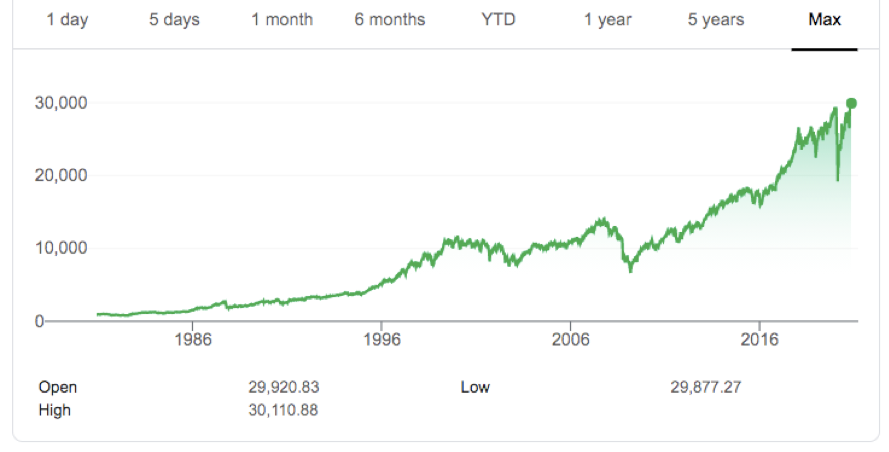 Against this backdrop Australia's ASX 200 edges closer to the significant 7,000 mark. A level it previously breached for only a few weeks in early January – February this year.
The pandemic may be retaining its hold across the globe, but despite this, equity markets continue their unprecedented optimism looking to 2021 and beyond – a sentiment perfectly surmised in this comment taken from a recent Capital Group Meeting.
"The economy, the stock market and the pandemic are separate things. The economy is in modest recovery with low inflation, the further outcome is dependent on the type of fiscal stimulus provided in the US. The stock market is being supported by the view that earnings will improve 6-9 months out. Too much focus on the pandemic will make you a poor investor as the statistics are terrible and you would never invest".
---
Trumped!
It seems Donald Trump is slowly realising that he will not be President after January 20th, with his administration resolving that there is a need to commence a formal transition process. Yet, in doing so they made it clear this was not a concession of defeat. In fact, quite the opposite as Team Trump threatened further legal challenges and his twitter feed continues to stoke the flames with fraud claims.
Despite his failure to prove anything in courts, his stance on election legitimacy is widely supported by Republican voters. A poll appearing in The Economist showed that three-quarters of Republican voters stand behind their main man, believing there was 'a lot' of fraud in the election. On the flip side 95% of Democrats believe Joe Biden legitimately won. Voters from both parties agree that the odds of a peaceful transition are remarkably low. Unfortunately, it does not fare well for a return to bipartisan politics in the US.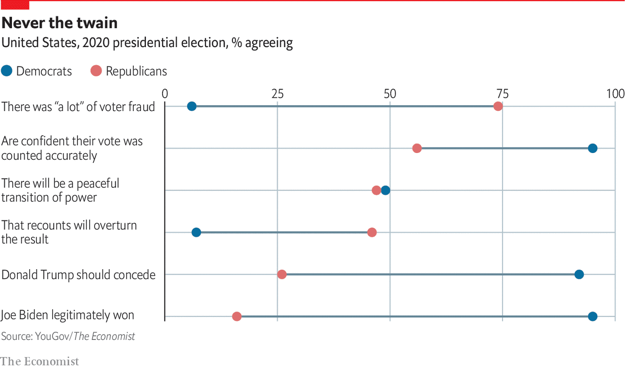 ---
Things that make you go mmm…
With Australian states cautiously opening their borders as community-based transmissions remain negligible, there was no such caution for Thanksgiving Day last week in the United States. Flightradar24 (monitors jet movements) revealed that more flights were in the air this Thanksgiving than on the same travel day two years ago. The Australian aviation industry is certainly along way off this kind of recovery…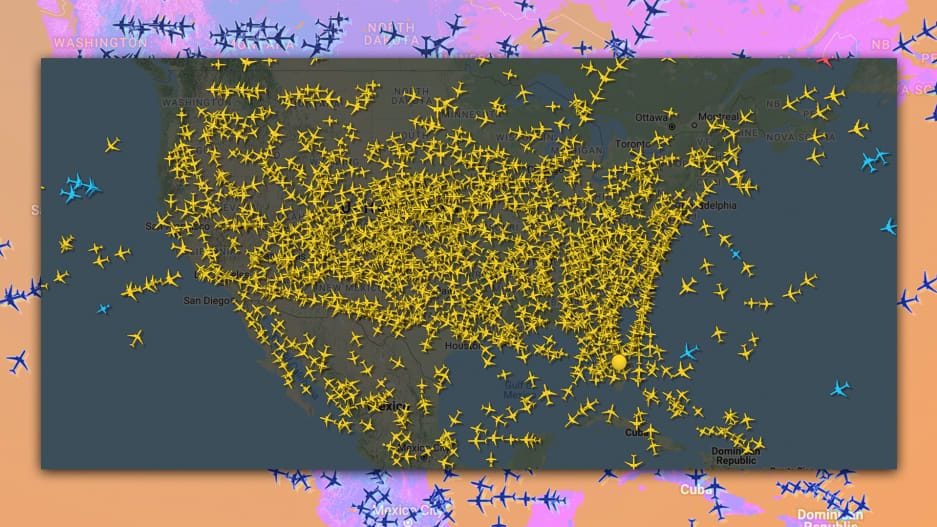 ---
Not so great on the China front
China-Australian relations reached a new low this week when Prime Minister Scott Morrison was forced to call a hastily convened press conference on Monday to respond to a fabricated image tweeted by a Chinese foreign affairs official accusing Australian soldiers of murdering Afghan children. It follows damaging tariffs on Australian barley and wine exports, the threat of further sanctions and a warning by Beijing's ambassador Cheng Jingye that Australian products would be shunned by shoppers across China.
All in all, it poses a challenging problem considering China is Australia's largest trading partner. However, it is worth remembering that the incendiary headlines presented via the 24 hour news cycle don't often provide the context to complex political and diplomatic 'chess playing'.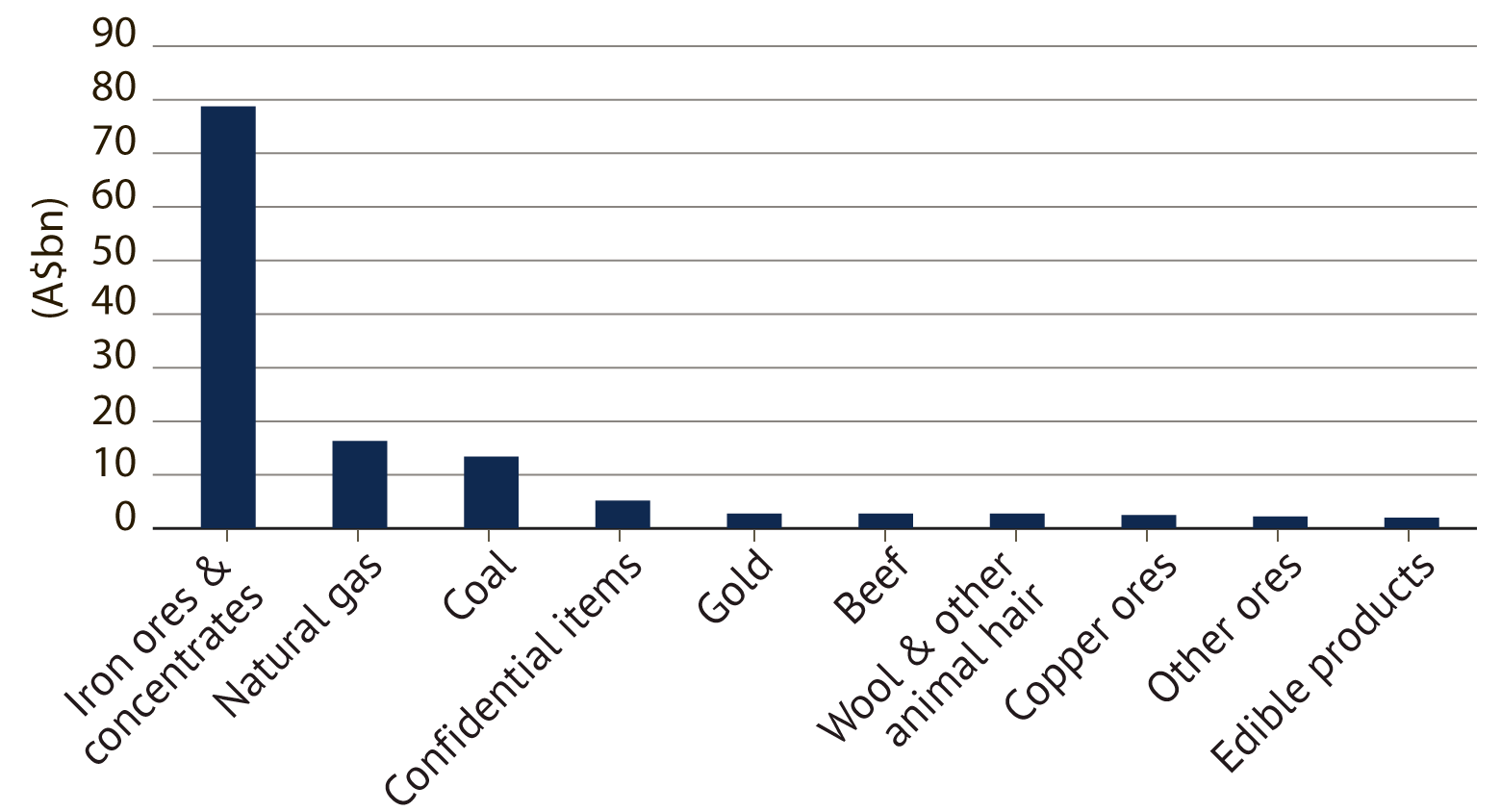 According to Anne-Marie Brady a specialist on Chinese Domestic and Foreign Policy, "China is humiliating Australia as an example to others". This is not a new tactic, "China has been freezing Australia out for a number of years, and has done so on many occasions. Each time the thaw has broken when it suited China's interests to do so, and usually when Australia has been required to make some sort of a diplomatic kowtow".
Brady believes that whilst Australia may be the focus of China's harassment right now, it could be any other country. In the past Norway, Denmark and France have borne the brunt and New Zealand fear they are next. In her view we are too important to China for the bullying to last in particular as a source of strategic minerals and food, influential in Pacific and Antarctic affairs, as well as being an important player internationally.
"Australia should be confident that China will eventually look for common ground in the relationship, and will understand that the tongue war is damaging its international reputation. We can expect that it will eventually trail off, as China's many other tongue wars have done.".
Let's hope so. An interesting perspective from a subject matter expert, you can read the article here.
---
Chart of the Week
Our chart of the week shows 117 years of historical returns on the Australian Sharemarket.
Since 1900, the sharemarket has returned an average of 13.22% per annum.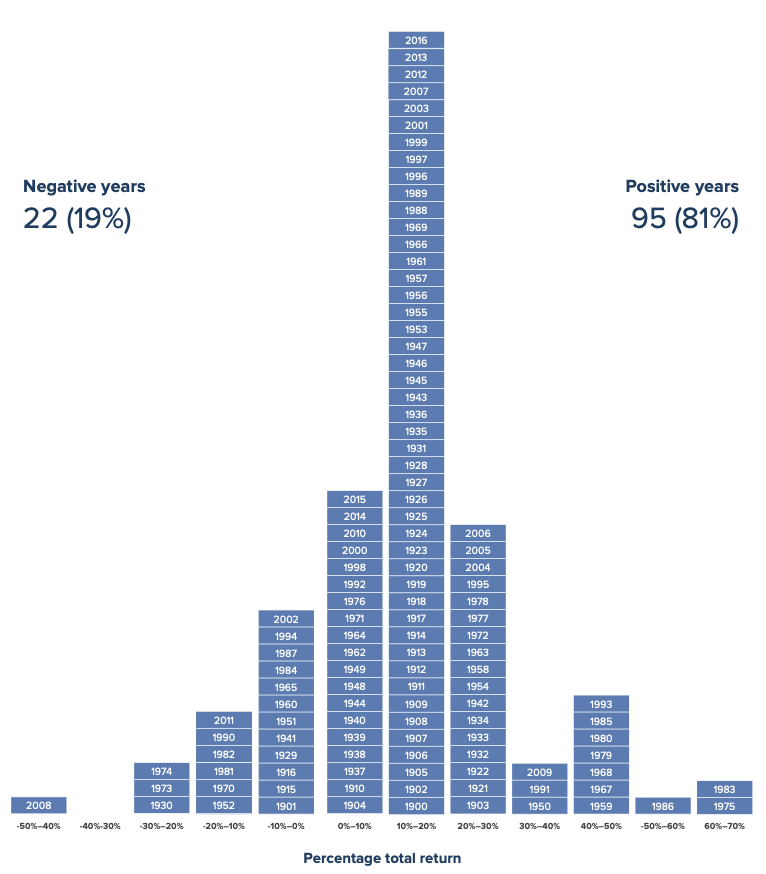 ---
Protecting yourself from scams is more important than ever
New scams relating to COVID-19 are on the rise as cyber criminals look to exploit these uncertain times, so please stay alert and cautious. To help protect yourself from getting scammed, here are some common scams together with tips on how to spot them.
Phishing
Phishing is by far the most common scam technique used at the moment. Scammers will contact you by email, telephone or SMS, and claim to be from a reputable source like your bank or the ATO. Their aim is to convince and lure you into revealing personal or financial information.
How does it work?
By telephone – Scammers might request remote access to your computer, or ask you to reveal sensitive information such as your PIN or identifying details over the phone
By email or SMS – these may include dangerous links or attachments that are embedded with computer viruses, which automatically download malware to your computer or phone. The malware can allow fraudsters to take control of your devices, log keystrokes such as passwords, or access personal files, which can then lead to identity theft and personal losses.
Some helpful tips
Never click on a link or open an attachment from a source you don't completely trust or recognise. Ensure you check the full sender address or name on all emails before trusting that the sender is legitimate.
Look out for messages that convey a sense of urgency (such as "download the attachment now or you will be penalised"); offers or prizes that sound too good to be true (for example, "click now to claim a $250 gift voucher"); and poor spelling and grammar mistakes.
Online Shopping
With online shopping surging in popularity as people stay home, cyber criminals are taking advantage of the growing volume of online shopping traffic by setting up fake online stores.
Some helpful tips
Buy only from trusted sources and visit their websites directly rather than following links.
Conduct your own research in a separate browser if you are ever uncertain about a company, product or offer.
Shop securely via Verified by VISA or Mastercard SecureCode where possible.
Update your computer software regularly and consider installing antivirus protection software.
---
Stay safe and look after one another. Enjoy the weekend and as always, if you have any concerns or questions at any time, please reach out to your FinSec adviser.